Early Modern English Books
La Collection Bodmer comprend 37 titres de Shakespeare
dont plusieurs premières éditions quarto
et un First Folio.
Le fonds «Early Modern English Books» regroupe tous les livres de la Fondation Bodmer imprimés en Angleterre, en Écosse, en Irlande, au Pays de Galles et en Amérique britannique, ainsi que les livres anglais imprimés entre les années 1470 et 1700.
Les critères de sélection pour l'inclusion d'un ouvrage sont ceux appliqués par les deux ouvrages de référence connus sous le nom de STC et Wing. [1] Sur la base de ces critères, il y a 174 livres qui appartiennent au fonds « Early Modern » dans la Collection Martin Bodmer, le plus ancien étant une copie des Contes de Canterbury de Chaucer imprimée par William Caxton vers 1483.
L'écrivain anglais le plus connu de la Bibliotheca Bodmeriana est, bien sûr, William Shakespeare. La collection compte 37 titres de Shakespeare, dont plusieurs premières éditions quarto et un First Folio qui contient des œuvres dramatiques de Shakespeare.
La bibliothèque contient également une riche collection d'adaptations de pièces de théâtre de Shakespeare des XVIe et XVIIe siècles, dont certaines d'Edmund Spenser, Ben Jonson, George Chapman, John Donne et John Milton.
En plus de ces ouvrages littéraires, les trésors conservés à la Fondation Martin Bodmer comprennent des livres très influents dans les domaines de la religion, des sciences naturelles, des mathématiques et de la philosophie. Parmi ceux-ci figurent la Bible d'Henri VIII (1539), les Principia Mathematica d'Isaac Newton (1687), les Logarithmes de John Napier (1614) et Du progrès et de la promotion des savoirs de Sir Francis Bacon (1605). Tous ces livres démontrent l'engagement de Martin Bodmer à acquérir des éditions exceptionnelles d'œuvres historiquement et culturellement importantes.
[1] A. W. Pollard and G. R. Redgrave, comp., A Short-Title Catalogue of Books Printed in England, Scotland and Ireland, and of English Books Printed Abroad, 1475-1640, 2nd edn (London: The Bibliographical Society, 1976-1991); Donald Wing, comp., Short-Title Catalogue of Books Printed in England, Scotland, Ireland, Wales, and British America, and of English Book Printed in Other Countries, 1641-1700, 2nd edn, 4 vols. (New York: MLA, 1972-1998).
Shakespeare in Geneva
Modern Early Modern English Books
at the Martin Bodmer Foundation
Le fonds Early Modern English Books de la Collection Martin Bodmer comprend 174 titres, principalement imprimés en Angleterre, en Écosse, en Irlande, au Pays de Galles et en Amérique britannique, qui datent de la fin du XVe siècle. Parmi eux, un ensemble est particulièrement remarquable, et jusqu'à présent peu connu : la Bibliotheca Bodmeriana possède en effet la plus grande collection d'éditions originales de Shakespeare hors du monde anglophone. Lire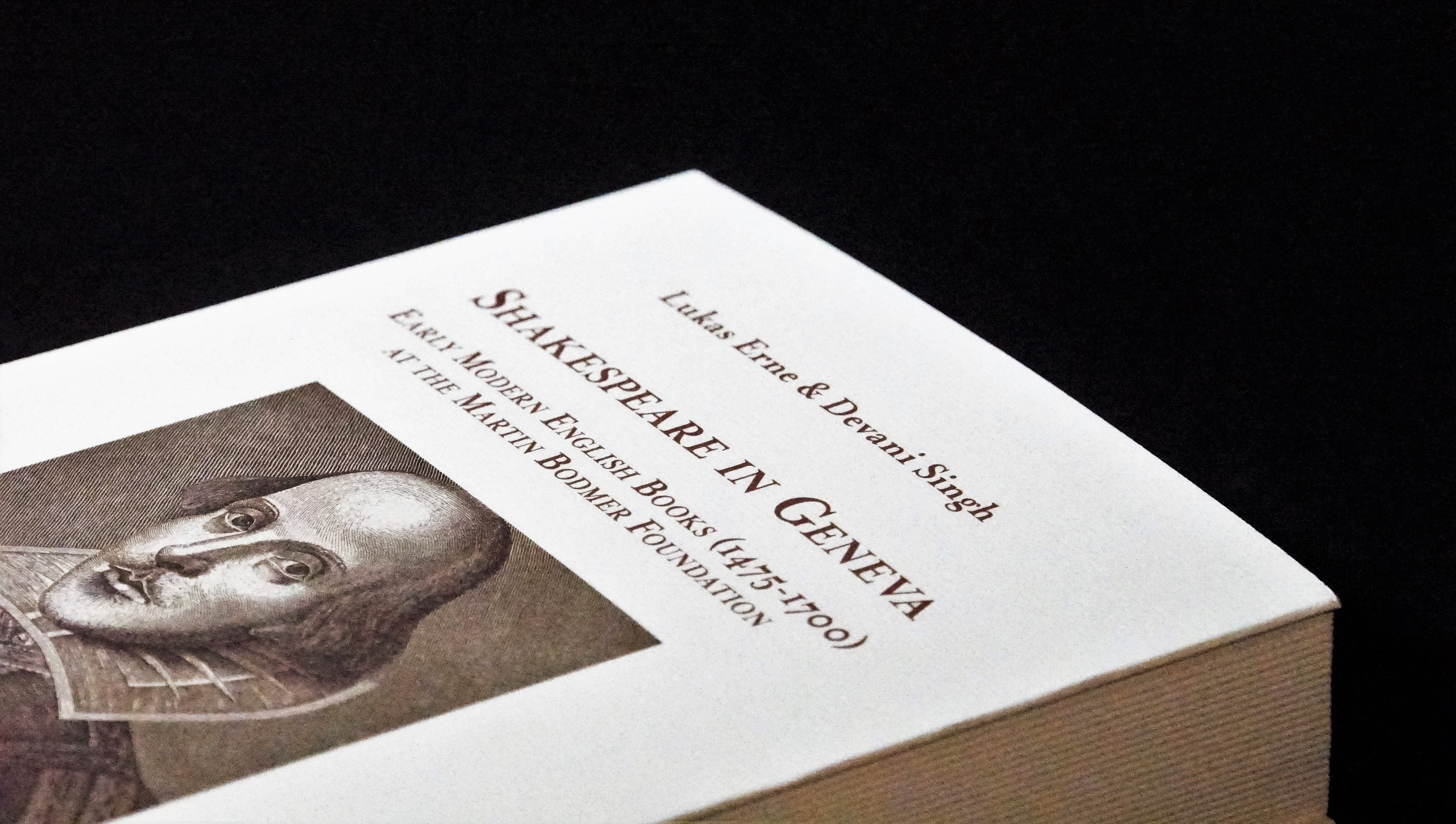 Type
Langue
Période
Période de temps définie